Committente: Comiso's Municipality Address: Piazza Fonte Diana 97100 Comiso (Ragusa), Italy
Periodo di Svolgimento: 2001 – 2010
Opera Intervento:
(Italiano) Completa trasformazione della struttura da base militare NATO ad aeroporto per scopo commerciale/civile.
Prestazioni professionali svolte:
Master planning and feasibility studies, land use and Site development planning,
Environmental assessments,
Preliminary and Detailed design for both airside (runway, taxiway, apron, lightings, markings and signage) and landside facilities (new passenger Terminal, ATC tower, Fire fighting and rescue Station, power plants),
Navaids easements and Instrumental Flight Procedures design,
Works supervision through permanent cost, quality and safety control.
Importo dei lavori: € 40.275.727,81
Comiso Airport "Pio La Torre" – "Aeroporto degli Iblei" (ICAO: LICB)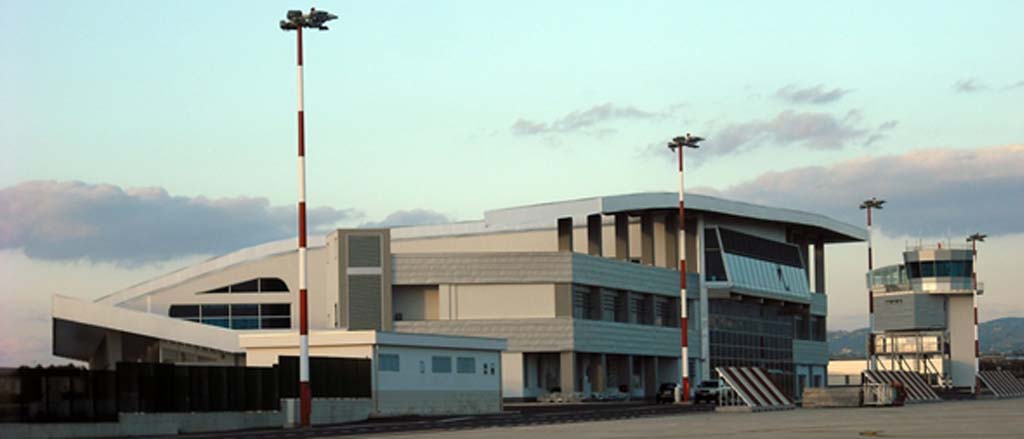 The Comiso Airport project comprises the complete design of a new civil airport involving both airside and landside.
This project  allowed for a NATO nuclear missile base to be converted into an airport after the end of the cold war.
Regular commercial flights, both scheduled and air charter, started on July 2013. The airport of Comiso is expected to be used by more than 500,000 passengers per year.  Comiso is the alternate airport to Catania, the main airport in Sicily that handling more than 6.2  million passengers in 2012.  Comiso airport can be flown to in case of unexpected conditions (such as weather or Etna volcano eruptive ashes) preventing regular operations in Catania.
TE2C won the European tender published by the Municipality of Comiso. TE2C has been awarded with the contract for the final and detailed design as well as the construction management (i.e. works supervision, health and safety supervision) of all airside facilities (runway, taxiway, apron, visual aids for navigation, airfield ground lightings, navaids systems, meteorological systems and the overall civil engineering), of the airport buildings (Passenger Terminal, Control tower and Fire & Rescue station, technical blocks) and airport access (car parking, roads and fencing).
The converted site included the construction of a new runway, taxiways, apron and all aeronautical systems (radio aids, visual lighting aids, etc.), as well as a  passenger terminal, control tower and all other necessary buildings associated with airport needs, such as firefighting station, power plants, etc..
The most important architectural designs were for the passenger terminal and the control tower.
The passenger terminal is a building that rises on a triangular area of 4000 m2.. The shape was mandatory as there was no other available space to build on. This is why the passenger terminal has an unusual shape with respect to other buildings of a similar type.
The terminal is articulated on three levels and a basement level.
The ground floor includes all the functional spaces for passengers, operators and retail facilities. The offices of the airport company manager and airline companies are located on the first level. On the second level is a panoramic restaurant that faces the apron.
TE2C oversaw the construction works, committing a resident staff to provide both works and health & safety supervision. Design activities started in 2004, works affecting airside facilities have been completed in 2007, the ones for Passenger Terminal and ATC Tower in 2010.
The hereunder list outlines the final and detailed design activities pertaining to main AIRSIDE and LANDSIDE facilities carried out by Tecno Engineering 2C at Comiso airport :
a)AIRSIDE FACILITIES
Runway RWY 05/23 with threshold in rigid pavement, back-track area enabling aircraft U-turn, runway and shoulders in flexible pavement;
Runway strip and Runway End Safety Area (RESA) accommodation;
Taxiway and runway exits;
Apron and its lighting system (light towers);
Drainage system to collect storm water runoff from the pavement surface and adjacent areas, conveying it along and through the adjacent areas, and discharge it to an adequate receiving body;
Visual aids for navigation and CAT I precision approach lighting system (AGL);
Radio aids to air navigation and airport weather equipment;
New electrical power supply systems for air navigation facilities and AGL;
Fuel farm and jet fuel storage (civil works and preparation);
Airfield service and safety road, airport fencing;
Airside infrastructures signs and markings;
Airside upgrading of underground utilities, technology networks and systems.
b)BUILDING & LANDSIDE  FACILITIES
Air Traffic Control (ATC) Tower and technical block;
Passenger Terminal and related special systems and plants;
Engineering technological systems and utilities (electrical, HVAC, hydro-sanitary, sewage, fire, etc..);
Renovation of the Rescue & Fire fighting station;
c)AIRPORT ACCESS
New roads network in the terminal area, with upgrading of some sections of the existing road
New car parkings, sidewalks, road markings and signs, urban lightings;